10PCS Baofeng x Misuta UV-82 Plus Dual Band UHF/VHF 137-174/400-520MHz Two Way Radio + Free Dual PTT Earpiece

Description:
- New crossover version "Baofeng x Misuta UV-82 Plus" transmit and receive signals more sensitive than other walkie talkies, it with the new circuit design, stronger stability and anti-interference ability.
- Equipped with high quality SMP Speaker, perfect sound quality.
- High performance antenna, support longer distance and receive signal more stable. The more human-friendly thing is it with two signal indicators, one is for send signal and - - one for receive signal, it use newest focusing lens design and higher brightness.
- Upgrade the function and smarter than other walkie talkies. It support two channels display at the same time also can automatic lock the strong signal channels as the main frequency.
- Original headsets come with PPT button, the walkie talkies PPT support send the above channels via the UP button and send the following channel via the down button.
- Upgrade the battery capacity, 3150mAh high capacity battery and last longer.
- Official Baofeng / Pofung Reseller with 24months Warranty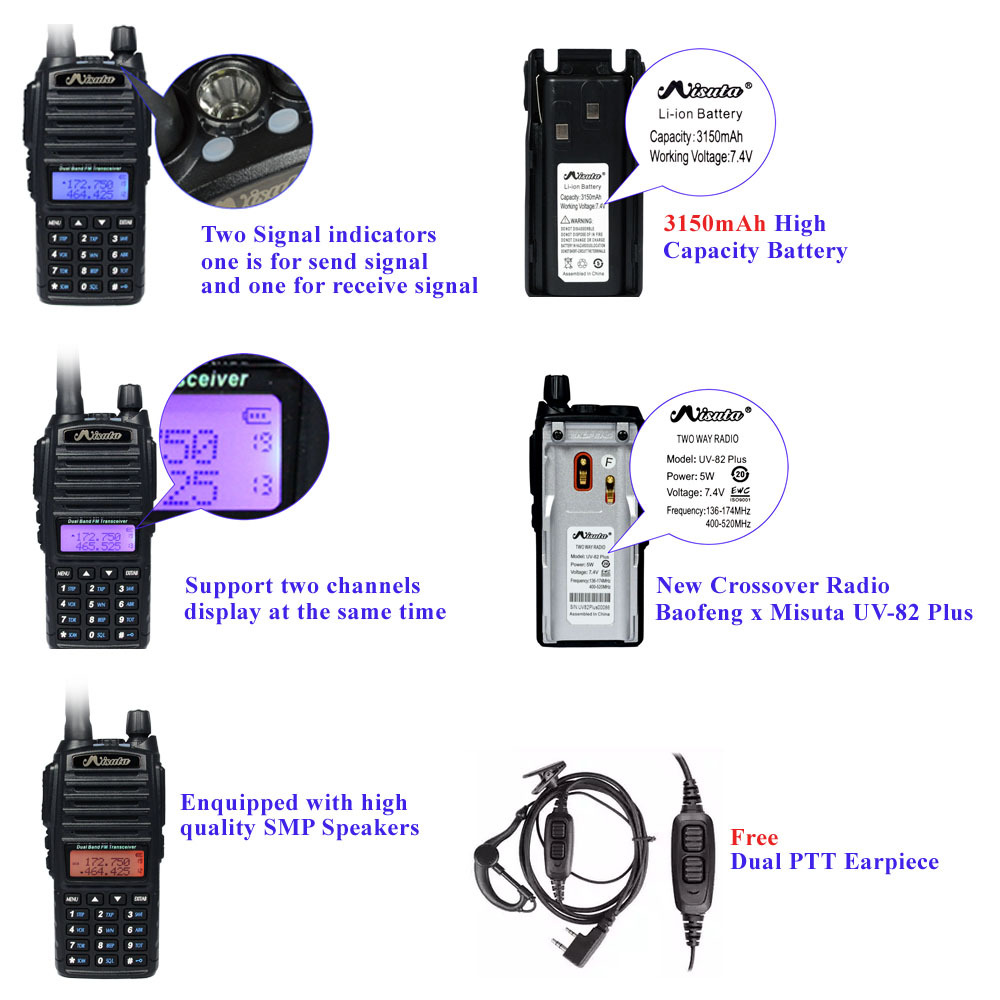 The transceiver is a micro-miniature multiband FM transceiver with extensive receive frequency coverage,providing local-area two-way amateur communications along with unmatched monitoring capability.

VHF/ UHF BAND-DUAL TWO WAY FM RADIO

Dual PTT keys

Frequency Range: 136-174 & 400-520MHz

Dual Band, Dual Display, Dual Frequency,Dual Standby

A/B band independent operation

128 groups channels storage

Shortcut menu operation mode

VFO & Memory channels scan

Emergency Alarm

Tri-color background light selectable

0~9 grades VOX selectable

PTT & ANI ID

FM radio and 25 stations storage

1750Hz Brust

Tone Time-out Timer

Channel Monitor

Battery Saver

Keypad Lock

Channel Step: 2.5/5/6.25/10/12.5/25KHz

Low Battery Alert

ROGER SET

Emergency Alert

25KHz/12.5KHz Switchable

FM Radio (65.0MHz-108.0MHz)

Large LCD Display

LED Flashlight

Hight /Low RF Power Switchable

Voice companding

50 CTCSS/ 104DCS coder & tone searching

dual standby

PC programmable

Wide/Narrow Band(25kHz/12.5kHz)

Transmitter time-out timer(TOT)

High/Low TX power selectable

Busy channel lock-out(BCLO)
General

Frequency Range

65-108MHz(FM Receive only)

136-174MHZ and 400-520MHZ (TX/RX)

Channel No.

128

Frequency Stability

±2.5ppm

Antenna

High gain DualBand antenna

Antenna Impedance

50ω

Operating Voltage

DC 7.4V

Mode of operation

Simple or semi-duplex

Antenna :

SMA -Female

Earpiece / mic type :

Kenwood Plug type

Dimension(W x H x D)

132 x 60 x 35 mm (not included antenna)

Weight

238g(including battery, antenna)

Power adapter

Input: AC100-240V, 50-60Hz;

Output: DC10V/500mA

Transmitter

Output power

5W / 1W (Max 5W)

Modulation Mode

16kφF3E / 11kφF3E

Maximum deviation

5kHz(Wide) / 2.5kHz(Narrow)

Spurious Radiation

7μW

Adjacent Ch. power

≤-65dB(Wide) / ≤-60dB(Narrow)

Pre-emphasis characteristics

6dB

Current

≤1.6A(5W)

CTCSS/DCS deviation

0.5±0.1kHz(Wide) / 0.3±0.1kHz(Narrow)

24 months Warranty