BAOFENG UV-5R III Tri-band VHF/UHF Two Way Radio Walkie Talkies 1-5KM Transceiver + USB Cable
BAOFENG
SKU:
BFBUN5RGTRUSBU
Bulk Pricing:
Below are the available bulk discount rates for each individual item when you purchase a certain amount
Buy 2 - 3 and get 3% off
Buy 4 - 5 and get 5% off
Buy 6 - 10 and get 7% off
FREE SHIPPING to regions in Asia, United Kingdom and the United States.
5% OFF all products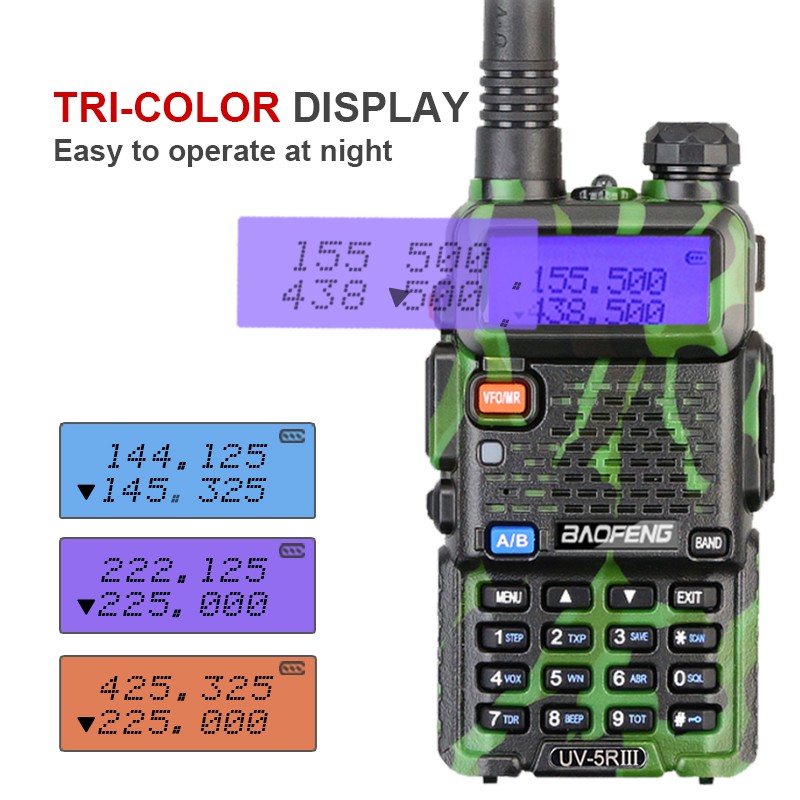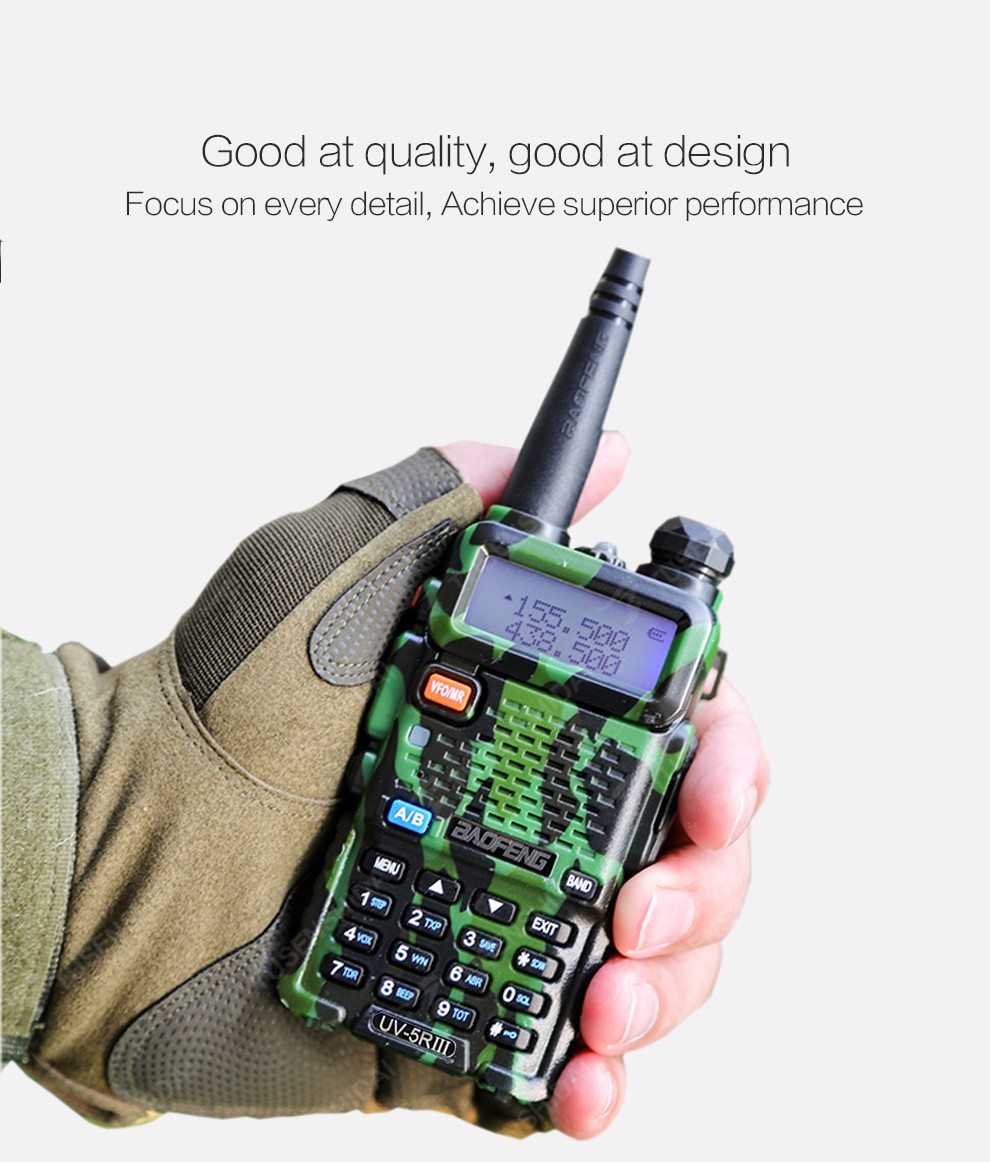 The transceiver is a micro-miniature multi-band FM transceiver with extensive receive frequency coverage, providing local-area two-way amateur communications along with unmatched monitoring capability.
Earpiece / mic type Kenwood plug type
Antenna SMA -Female
Frequency Range: 136-174 / 220-260Mhz / 400-520MHz
Tri-Band Display, Dual Freq. Display, Dual-Standby
Output Power 4 / 1 Watts
128 Channels 50 CTCSS and 104 CDCSS
Built-in VOX Function
1750 Hz Brust Tone
FM Radio (65.0 MHz - 108.0 MHz)
LED Flashlight
Large LCD Display
High / Low RF Power Switchable
25 KHz / 12.5 KHz Switchable
Emergency Alert
Low Battery Alert
Battery Saver
Time-out Timer
Keypad Lock
Monitor Channel
Channel Step 2.5 / 5 / 6.25 / 10 / 12.5 / 25 KHz
Roger Set
Item number

UV-5R III

General

Frequency Range

65-108 MHz (FM Receive only)

136-174 MHZ / 220-260 MHz / 400-480 MHZ (TX/RX)

Channel No.

128

Frequency Stability

±2.5 ppm

Antenna

High gain dual band antenna

Antenna Impedance

50ω

Operating Voltage

DC 7.4 V

Mode of operation

Simple or semi-duplex

Dimension(W x H x D)

100 x 52 x 32 mm

Weight

250 g(including battery, antenna)

Transmitter

Output power

4W / 1W (Max 5 W)

Modulation Mode

16kφF3E / 11kφF3E

Maximum deviation

<5 kHz (Wide) / <2.5 kHz (Narrow)

Spurious Radiation

<7μW

Adjacent Ch. power

≤-65 dB (Wide) / ≤-60 dB (Narrow)

Pre-emphasis characteristics

6dB

Current

≤1.6A (5 W)

CTCSS/DCS deviation

0.5±0.1 kHz (Wide) / 0.3±0.1 kHz (Narrow)

Intermediation sensitivity

8-12 mv

Intermediation distortion

<10%
Package Include

1 x UV-5R III Green
1 x 7.4 V 1800 mAh Original Baofeng Li-ion Battery Pack
2 x Antenna
1 x Hand Strap
1 x Belt Clip
1 x ENG Manual
1 x Desktop Charger with USB Connector Male
1 x PTT Earpiece for free
1 x Programming Cable
Reviews
The radio is sopt on no problems at all easy to use and program although the software that came with the USB data cable is all in Chinese I managed to find a solution to that online

Purchased to help stay updated of latest events for race marshalling, enabling me to follow the race commentary on FM but with Race Control comms cutting over this with key race information. The device can do a lot more than this, but that's all I needed it for. The quality is excellent, signal is great, & battery last very well. I'm very impressed & thoroughly recommend this.

Tökéletes szuper gyors szállítás

Fantasztikus elem a leírtak szerint. Szállítás a vártnál gyorsabb, könnyű tranzakció.