Baofeng BF-888S [2 Pack] UHF 400-470MHz Walkie Talkie Long Range VOX Two Way Radio + Earpiece
BAOFENG
SKU:
BF00888USB-variation
BEST SELLING: BAOFENG BF-888S UHF Walkie Talkie Long Rang VOX Two Way Radio
Baofeng BF-888S is one of the smartest and smallest devices available. This lightweight and compact mini walkie-talkie pack a real punch, with Slim Body Good Outlook and long distance communication and offers clear sound quality, it can operate conveniently. The features you could tweak include the voice prompts, squelch function, VOX mode, and TX/TR timeout. It's ideal to stay connected with family or friends in parks, shopping malls, sporting events, concerts-virtually any indoor or outdoor activities. And is suitable for these circumstances: security guard, construction sites, supermarket connection, construction area indication, most helpful for field survival, biking and hiking.
▶ It has an extra slim body, loud crystal-clear RX audio, Long distance capability, Great battery life, Multi-Feature Functions and it's very easy to use for all ages. Built in LED Torch and indicator, enhanced signal transmission, volume control, , low voltage alert and internal VOX.
▶ Frequency Range: UHF: 462MHz-467MHz.16 channel; 50 CTCSS/105 CDCSS; VOX Function; Voice Prompt and built in LED Flashlight.
▶ Our FRS Radio Walkie Talkies are perfect for the following applications: security guards, supermarket personnel, construction crews, outback survival, biking and hiking.
▶ How easy is it? Turn it on, press the key to Talk, adjust volume to listen. Also comes with earpiece for private conversations. Has a robust belt clip. Battery power-saving features extended battery life. It tells you when you need to connect it to the provided intelligent charger.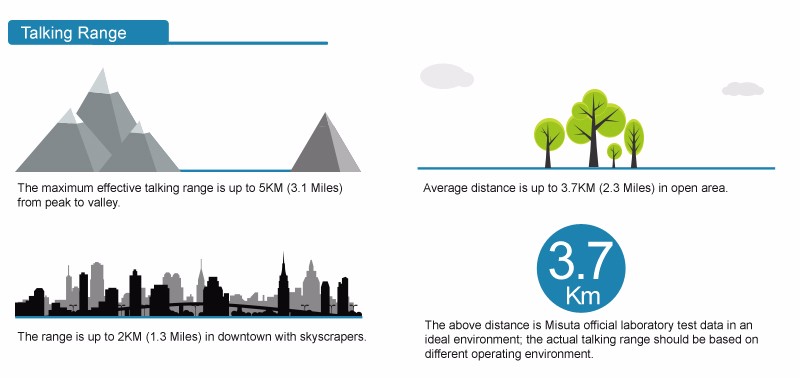 The BF-888S Handie-Talkie is a tough little workhorse at an unheard-of price! It can keep workers connected inside warehouses, outside at construction sites or over 4+ miles in open-air locations. You won't have to worry if one is damaged or lost. Instead of $400 a radio, these are the cost of a pack of cigarettes and a cup of coffee. These are ready to use - or you can program them easily with your company's channels using our in-expensive programming cable and free software.
When and where do you need this radio?

- When in the construction area, you need to communicate with your team member efficiently.

- For security guards, you may feel this is a great tool for your work, talks in real time.

- When you are traveling by car with a group of friends, this helps constantly communication among your mates.
 
How far can this radio be connected?

- Communication Range: about 2-4km (depends on the actual situation).
Frequency: UHF 446-446.2, 38 CTCSS/ 83 DCS.
Easy to communicate with each BF-888S on the same channels (16 memory channels can be chosen).
USB Desktop Charger, conveniently recharge your radio through wall charger/car charger/laptop/power bank, never worry about low battery.
Portable size, great fit in hand, complete with built-in LED torch, it is really convenient for road trip, traveling, camping, hiking, fishing and hunting, etc.
PC Programmable via cable(

download software)

, not only support CPS software, but also support CHIRP.
2-Year warranty . Any assistance, please feel free to contact us to get support.

16 pre-programmed channels right out of box, can be used to communicate directly with each BF-88E on the same channel.Each channel contains 100 subchannels. This diversity in the choice of channels guarantees that the Baofeng BF-888S will function without interference even in an environment where many other radios are used. To select the desired channel, use one of the rotary knobs at the top of the unit. Features The functional range of the device is very large.

Portable size, great fit in hand, complete with built-in LED torch, it is really convenient for a road trip, traveling, camping, hiking, fishing, and hunting, etc.
Easy to use: the channel knob makes channel selection child's play. Other functions include 50 CTCSS / 105 CDCSS, VOX function, key lock, LED flashlight, energy-saving mode, etc.
Power Source The power supply is ensured by the 1,500 mAh battery supplied. This allows you to use the walkie-talkie for about 8 hours at a time. If one includes breaks, the BF-888S can be used for a whole day.
* SQUELCH LEVEL
The purpose of the Squelch is to mute the speaker when no signals are present. With the squelch correctly set, you will only hear sound when a signal is present.

* TIME-OUT TIMER (TOT)
The TOT limits the length of a users transmission. The purpose of the TOT is to prevent transmitting for a long period of time, causing thermal damage to the radio. And alert will sound when the limit for that transmission has been reached.

* VOX (Voice Operated Transmit)
VOX eliminates the need for using the PTT key to transmit. The transmitter is keyed when the VOX circuit senses you are speaking into the microphone. Emergency Alarm When the user is in an emergency or unexpected situation, a single press of the alarm button will immediately activate the intercom. Voice Activation The TX button can be activated by voice alone. This is known as voice activation or VOX.

* BATTERY SAVER
Reduces the battery power used when not receiving a signal. Battery saver turns on automatically 10 seconds after no signal is received and no operation is being performed.

* BATTERY LOW ALERT
Reminds you that battery needs recharging. Alert tone will sound and Red LED will blink.

* MONITOR
When no signal is being received, Press and Hold the MONI. This is helpful for adjusting volume level and receiving weak signals.

* BUSY CHANNEL LOCK-OUT (BCL)
BCL prevents you from transmitting on a channel if a signal is present. Pressing the PTT switch while a channel is in use will emit an alert tone and inhibit the transmitter.

* CTCSS / DCS
CTCSS (Continuous Tone Coded Squelch System) or DCS (Digital Coded Squelch).
You may sometimes want to hear calls only from specific persons or groups. This option allows you to ignore unwanted calls from others on the same frequency. These tones are sub-audible (cannot be heard) and are selectable via software.
Note: These tones do NOT cause your conversation to be private or scrambled. It only relieves you from listening to unwanted conversations.
Note
Antenna Type: Compatible with SMA-Female Antenna
Earpiece & Programming Type: Compatible with K-plug earpiece/cable
What are the pre-programmed FRS/PMR channels?
Frequency Range

UHF 400-470MHz

RF Rated Power

≤ 5W

Channel Capacity

16

Channel Spacing

25KHz

Operated Voltage

3.7 V

Battery

1500MAh Li-ion

Battery Life

About 8 hours

Frequency Stability

±2.5ppm

Operated Temperature

-30°c-+60°c

Antenna Impedance

50Ω

110×50×32 mm

Weight (with battery/antenna)

198g

Communication Range

about 2-4km

Transmitter

RF Power Output

3W

Modulation

F3E

Spurious Emission

FM Noise

Audio Distortion

≤5%

Transmitting Current

≤1.3A

Receiver

Sensitivity (12dB SINAD)

≤0.20 uV

Selectivity

55dB/50dB

Intermodulation

≥65dB

Adjacent Channel Selectivity

≥60dB

Spurious Response

≥60dB
Troubleshooting Guide
Troubles
Guide
NO Power

Check battery installation and/or replace batteries. Voltage Capacity Quickly Go Out.

The battery life is over, replace a new one

Couldn't communicate with other group members

First, please verify that the channel frequency and the CTCSS you are using the same as those of your group members. If the channel frequency and the CTCSS are the same, please verify that your group members are within the radio coverage.

Hear the voice from other groups

Please change your CTCSS for the channel. At the same time, you also need the CTCSS for all the radios in your group. If you don't like it, you may apply another channel frequency.

Why can I hear the voices clearly from another group, sometimes, my voice is intermittent

Please check whether the MIC is blocked by something. If so, please return the radio to your authorized dealer for maintenance. Sometimes, your frequency is the same as the frequency of other groups.

Can't turn on the radio and even it is turned on, it often shuts off automatically

Please check the battery contacts on the radio. If it is broken or twisted, please return the radio to your authorized dealer for maintenance.
Pakage Includes:
2 x Baofeng/Pofung BF-888S
2 x Earphone
2 x 3.7v 1500mAh Li-ion Battery
2 x SMA-Female Antenna.
2 x Belt Clip
2 x Wrist Strap

2 x Desktop Charger with USB Connector Male